I've been wanting to try out train scale for a while now. I've checked out a bunch of different kits online and the two scales that I am interested in are HO (1:87) and N (1:160). I have been watching this particular kit on Ebay and finally found one that wasn't $40 before shipping.
Woodland Scenics Maple Leaf Cemetery #S131.
An 8" x 11" scene which includes; basswood tool shed; basswood fence rail; eight trees (with two colors of foliage); four colors of grass and soil; two colors of foliage for bushes and weeds; and over 40 white metal castings including stone fence posts, stone walls, gates, two men, a central monument and 28 tombstones with names.
Remember the movie Beetlejuice? I loved the scale model of the town that the Maitland's had in their attic.
This pic doesn't belong to me - I found it on this forum:
Another kit that I've seen that I adore is this one -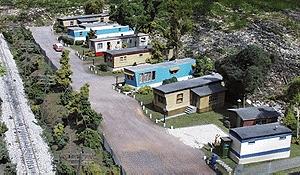 But I had better see how well I do with the Maple Leaf kit first! I'll post pics as soon as I've started. Happy Monday everyone :)